With the consumption upgrade in the past two years and the increasing personalization of user needs. Query machines with fashionable appearance, simple operation, powerful functions, and easy installation have begun to be widely used in various major industries. As a simple, convenient and practical human-computer interaction device. The query machine often provides query services and advertisement push exposure. With related system software, it can realize many function.Such as large touch screen public information query, entertainment interaction, advertisement display, and regional navigation and other diversified services.
The Advantage Of Large Touch Screen As A Query Machine Application
Shopping Mall Guide/Offline Store Shopping Guide
The query machine has a high-value and simple appearance design. It can provide self-guided navigation services when used in shopping malls. Moreover ,it is convenient for consumers to guide the location of shopping malls and clearly understand the relevant routes. Applied to offline stores, it can subvert the traditional model of placing product samples.However, it can display products in diversified, multi-form and multi-angle ways, and display corporate brands.So that the store's shopping guide is dictated by the original traditional dull shopping guide and presented in promotional brochures. It is further transformed into a flexible, convenient, and "real and visible" shopping guide model. Then in-store customers can participate in the experience and interaction more effectively and further create a good audio-visual experience for in-store customers. Also can strengthen the customer's brand, product, and Store cognition. Thereby increasing the turnover rate of in-store business.
Wenbo Exhibition Hall/Library
Nowadays, many cultural museums and libraries will also install the query machine. Regarding the scenes of the cultural and expo pavilion. The query machine can help users to consult relevant cultural and historical materials, regional distribution and other information. And even conduct simple exhibitions on the special scenes in the pavilion. So that visitors can build a comprehensive understanding of the cultural and expo pavilion.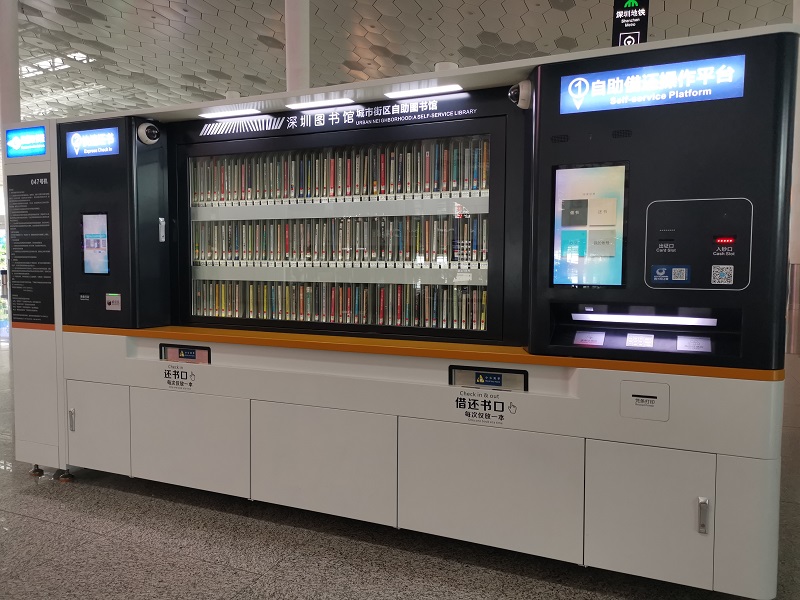 In the library scenario, query machine provides more self-service terminal services. For example, users do not need to manually register for borrowing and returning books and can complete all book-related procedures through query machine. Even through the search and navigation function. Before entering the library, you should have a clear understanding of where the books you want to borrow are in. It saves users' time and at the same time frees up library manpower and brings a flexible, efficient new experience.
Corporate Hall/Government Hall
In the corporate lobby scenario, the query machine also plays an indispensable role. When leaders and interested customers come to the company to visit and guide and negotiate cooperation. The creation of a more intelligent and technological enterprise hall can often deepen the good impression of the visitors. And through the machine, visitors can browse the corporate brand/product information with a touch of the screen. And can quickly browse content such as corporate events, brand development history, product advantages, etc., to deepen their understanding of the company.
Use the query machine for the government affairs hall. It can provide good self-service terminal services and publicity services. Citizens who come to handle related business can clearly understand the area where the business is handled through the inquiry machine. Even it can realize functions. Such as recharge, cancellation, online declaration, and convenience inquiries, saving citizens time and speed working schedule.
Financial Bank/Airport
Used in scenarios such as financial banks or airports, the inquiry machine has two main functions. The one is the inquiry guide. It is convenient for users to inquire about the relevant financial business information of the bank.And it can inquire about the flight time of the airport, the route of the boarding gate, and so on. The other one is advertising display. The  query machine can display and replace in real time about financial-related customer advertisements and airport information flow advertisement. It is also conducive to increasing corporate revenue.
Nowadays, query machines are gradually being used in all aspects of our daily work. In addition to the above scenarios, we often use it in various occasions. Such as stations, exhibitions, hospitals, hotels, etc. With the continuous change and development of the times, I believe that the application of  query machines will only become more extensive.
Dingtouch Indoor Touch Screen Manufacturer
Dingtouch as a professional touchscreen manufacturer with more than 10 years experience.We are welcome to customize your touchscreen .Here are some of our standard product . Such as 7 inch touch screen, 10.1 inch touch screen ,15 inch touch screen,15.6 inch touch screen,17 inch touch screen,17.3 inch touch screen,18.5 inch touch screen,19 inch touch screen,21.5 inch touch screen, 23.6 inch touch screen,23.8 inch touch screen,27 inch touch screen.Contact our team today to buy a capacitive touch screen are best for our retail business needs.
our other one website: www.szdingtouch.com