Now more and more device or machine have already installed the touch screen glass.Maybe you will ask what's the 4 best touch screen glass of 2021 we can buy?Today let us discuss about it.
The most important thing of best touch screen glass is the chip solution.Because it almost determines everything,like performance,support waterproof/Gloves,touchscreen's thickness and so on.
The 4 Best Touch Screen Glass of 2021
The 7 inch touch screen glass occupies the top position of our list with its excellent touch effects and cost-effective solutions. It has a smooth touch effect and multi-touch.So no matter what kind of application environment it is used in, it is one of the best choices.
Continue our roundup to learn more about the best touch screen glass that money can buy, or skip to our list of the best touch screen glass for more and better choices.
For simple options with small and medium size and matching flexibility, the 7 inch touch screen is a good choice. This touch screen is affordable. If you want us to provide the touch screen with TFT LCD , we can also provide you with a complete set of touch screen display.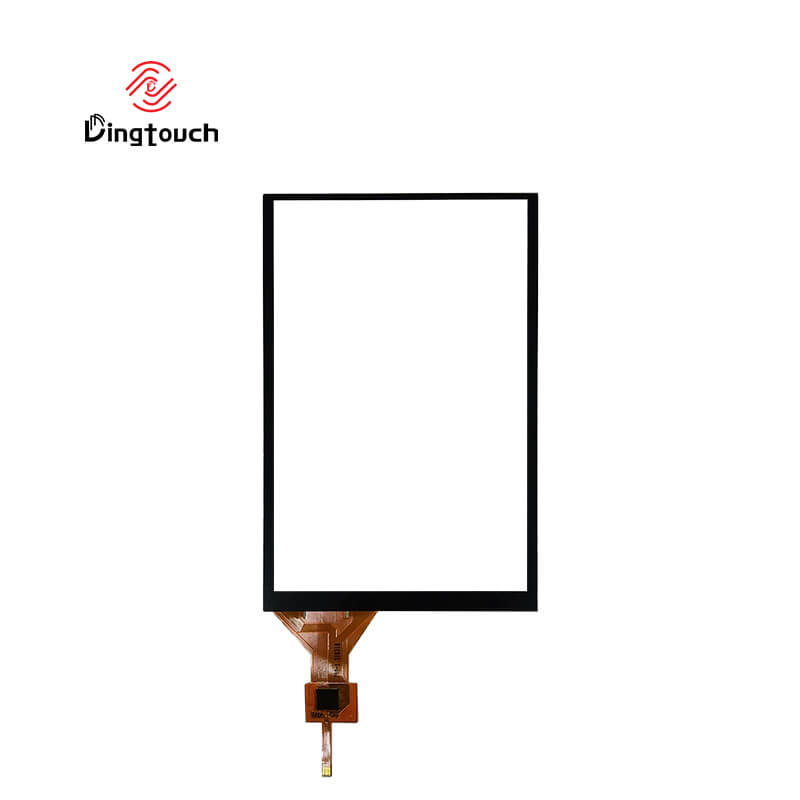 Some product will be used outdoors, then we suggest that you can make an anti-glare coating on the touch screen, which helps to create a bright outdoor environment. If your touch screen is constantly exposed to sunlight, there is an anti-glare coating. The coating can easily see the contents inside. Our anti-glare coatings are all etched anti-glare. This process makes the anti-glare effect better.
The 7 inch touch screen glass can support I2C interface. So if you encounter any problems while driving, you can contact us at any time.  Dingtouch   We can provide you with some driver file codes, or solve driver problems for you.
Dingtouch can do the 10.1 inch touch screen with many kinds of solutions. If your budget is sufficient and it is suitable for harsh environments, we recommend using the EETI chip solution. If you need something that can be used in harsh environments but need a slightly cheaper price, we recommend the ILITEK solution. However, some of customers want to do a cost-effective solution and the product application environment is biased towards consumer products, we recommend the GOODIX solution. Therefore, we recommend using different chip solutions for different environments.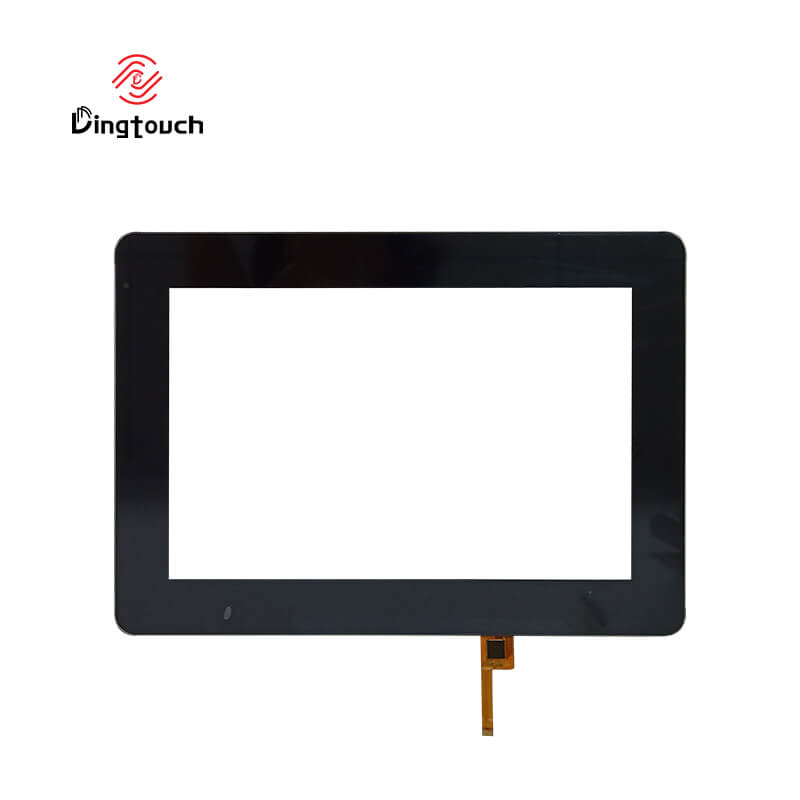 We also can do the 10.1 inch touch screen glass with Chip on the FPC or Chip on the board solution. If you have your own R&D team, then we recommend chip on the FPC solution. If you need simple operation, then you can use Chip on the board solution.
In our lives, the 15.6 inch touch screen glass is used in many aspects. So 15.6 inch is also a relatively common size. For 15.6 inch, we can also provide many options for your choice. Some people prefer a solution that can support two interfaces at the same time, such as I2C and USB interfaces. In fact, our standard 15.6 inch touch screen glass with control board solution can support them at the same time. But some customers do not want to use this scheme. Then we can also provide another solution, which is to make the interface into the form of a connector, which can support I2C and USB interfaces at the same time.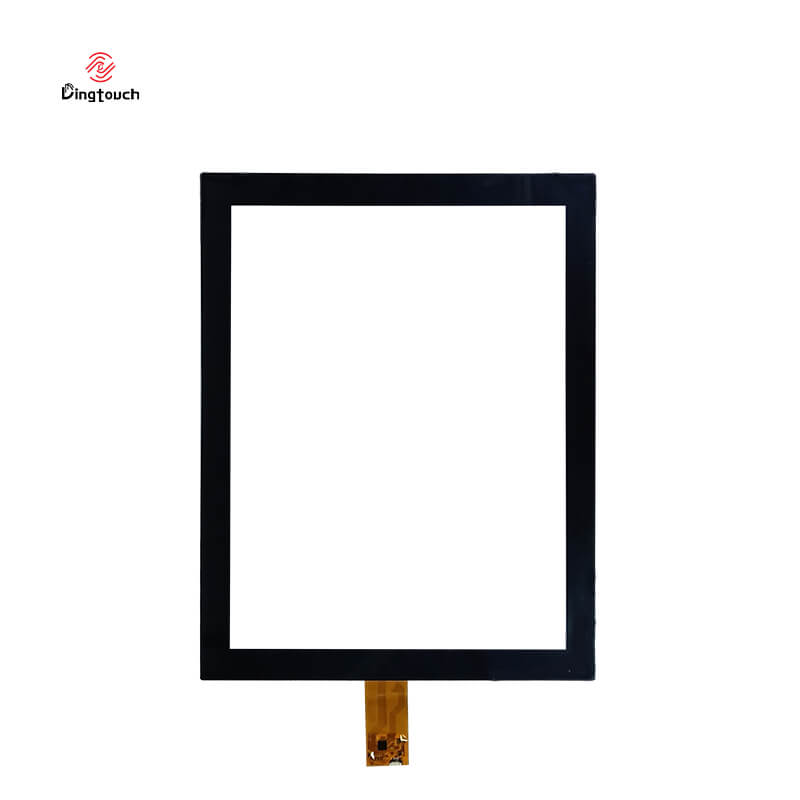 So we can provide you with customized solutions. If your product needs to be touched with water and gloves, we can also start to provide this kind of solution. As long as you provide us with your detailed drawings, we can quote for you.
The 18.5 inch touch screen glass has a stylish design. It is a ratio of 16:9. It is an excellent choice for those standard 18.5 inch monitors on the market. Our standard touch screen has a black frame. Many customers now require an almost borderless design. We can customize this according to your drawing design.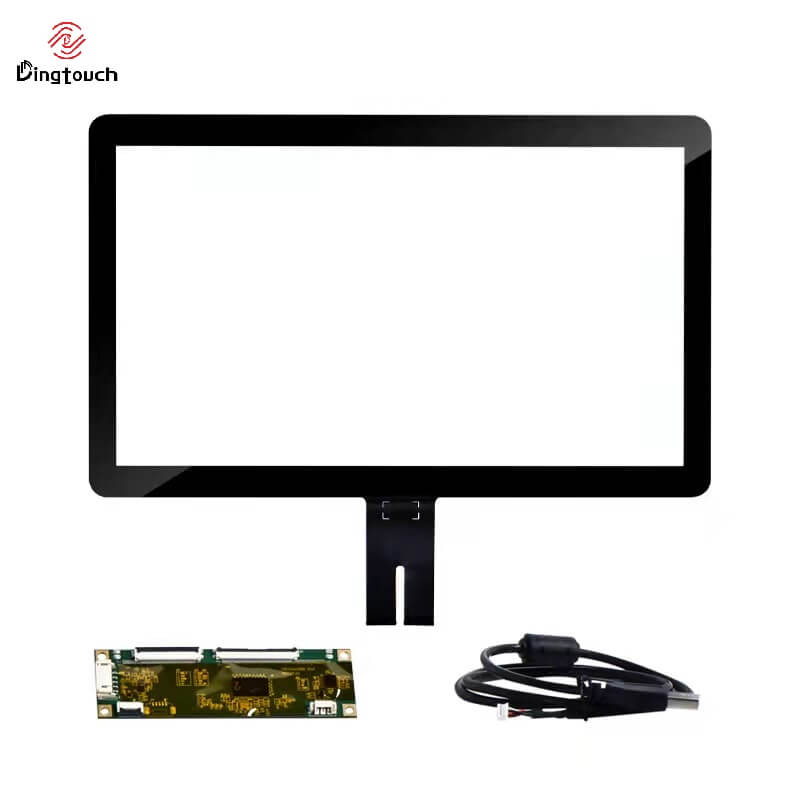 Can support I2C USB RS232 three kinds of interface connections. And also supports 10-point touch. We can according to your size to customize your own touch screen.
There are touch screen, control board and USB cable in the package. It is very easy to operate, just connect the touch screen and the control board, and then connect the USB cable to your monitor to start touch use. If your operating system is Windows, it is driver-free. If it is Android or Linux, we can provide driver information.
What To Look For In A Touch Screen Glass?
1.Chip Solution
The chip solution determines the quality of the touch screen. If you use a high-quality chip solution. The life span of the touch screen can reach more than 5-6 years. Therefore, high-quality chips directly affect the life of the touch screen. If your product is a high-end product, try to choose a high-quality chip solution. If your product is low-end, we will recommend that you can choose a cost-effective chip solution.
2.Interface Type
The main interface of general touch screen glass is I2C, USB, RS232. These three kinds of interfaces are more common. You can choose the interface scheme that suits you. For small-sized touch screens, customers use I2C interfaces more often. For large szie touch screen, we will recommend choose USB interface.Because it is more convenient to use.
3.Touch effect
The touch effect of a high-quality touch screen glass is very smooth, and there will be no breakpoints, drift, misalignment, etc. So if your touch screen has similar problems,  we just can say that the manufacturer did not design it well when designing it. Or the raw materials for your use are low-quality materials.
Common Problem
1.Can The Touch Screen Be Used With Any Computer?
Yes, you can add a touch screen to almost any computer (desktop or laptop). Your only real concern is to ensure that your computer is a Windows system. Because it is driver-free. If your system is Android or Linux, please contact us, we can send you driver information.
2.How Does The Touch Screen Work?
The touch screen technology used by many touch screens is generally capacitive. It mainly relies on changes in the electrostatic field triggered by a finger or a dedicated stylus/device to record the input.
3.Can I Customize My Touch Screen Glass?
Yes, it is possible. We can provide customized services. You want you to send us the detailed drawings, and we can provide you with some professional customized suggestions and quotations.
Dingtouch as a professional touch screen manufacturer with more than 10 years touch screen experience.We are welcome to customize your touch screen .Here are some of our standard product such as 7 inch touch screen, 10.1 inch touch screen ,15 inch touch screen,15.6 inch touch screen,17 inch touch screen,17.3 inch touch screen,18.5 inch touch screen,19 inch touch screen,21.5 inch touch screen, 23.6 inch touch screen,23.8 inch touch screen,27 inch touch screen.Contact our team today to lean what capacitive touch screen are best for our retail business needs.
our other one website: www.szdingtouch.com